Bridges, Loughborough & Leicestershire
A bridge is a fixed dental restoration used to replace one or more missing teeth by joining an artificial tooth definitely to an adjacent teeth or dental implants.
Fixed is mainly indicated for back teeth and the adhesive bridge is mainly indicated for missing front teeth.  The different materials like porcelain bonded to metal, ceramic crowns like E-max and Zirconia are used to make these bridges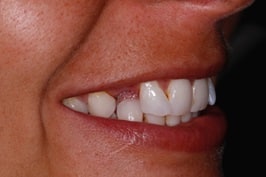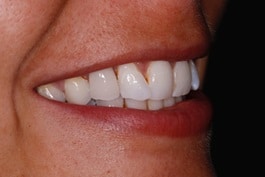 *Here is a before & after image of what a bridge would look like if you have a missing tooth
Our Clinical Lead, Dr Hemal Charadva has written a blog post and in there he talks the options if you have missing teeth – click here to read the blog.
You may find this useful if you have been considering a bridge, denture or an implant.
FAQ's
Are bridges expensive?
Although a bridge may seem costly they can be a wise investment that will give many years of good service. It will also improve your appearance and bite. A bridge uses the considerable skill of the dentist.
How do I look after my bridge?
You need to clean your bridge every day to prevent problems such as bad breath and gum disease. You also have to clean under the false tooth every day. Your dentist or hygienist will show you how to use special floss that a normal toothbrush cannot reach.
Do you need a bridge?
Carillon dental care serves Leicester & Loughborough is one of the leading providers of cosmetic dentistry in the East Midlands. We have an amazing team of experts.